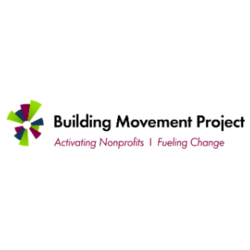 Finance, Grants and Operations Manager
Sorry, this job has expired.
New York, NY
Overview
For nearly two decades, the Building Movement Project (buildingmovement.org) has cultivated the potential for nonprofit organizations to effectively partner with movements for progressive social change. We learn by listening to groups and leaders about what it takes for organizations to align their social justice principles with their operating practices. Our research and practical resources help organizations innovate to meet the needs of the communities they serve and face the challenges of the external environment.
BMP concentrates on the following three main areas to accomplish our goals and advance social change:
Leadership: Analyzing how organizations can do their best work, encourage diverse leaders at every level, and promote the most effective and inclusive practices;
Movement Building: Acknowledging and building on the distinct role of nonprofit organizations in advancing movements for social change;
Service and Social Change: Developing the capacity of organizations to engage constituents in changing the systems that impact their lives.
The Building Movement Project is a fiscally sponsored project of TSNE (tsne.org).
Responsibilities
The Building Movement Project (BMP) is seeking a Finance, Grants and Operations Manager. This is a new position intended to support the continued growth of BMP, which has staff and consultants in New York City Detroit, and New Mexico, as well as individual staff members working remotely. This position will be a key role that supports all members of the BMP staff, key consultants and vendors, and will work closely with both Co-Directors and other members of BMP's senior leadership to oversee BMP's administrative functions, including compliance with the systems of TSNE MissionWorks, the fiscal sponsor of the Building Movement Project.
The Finance, Grants and Operations Manager will have the following responsibilities:
Financial Oversight, Planning, Budgeting and Analysis
Monitor and report monthly on BMP's revenue and expenses, and meet regularly with TSNE's Grants and Finance Manager to ensure accurate fiscal accounting;
Prepare annual budget reports, as well as develop prospective budgets and scenario-based forecasting for BMP's Co-Directors and senior leadership;
Match expenses with revenue sources in consultation with the Co-Directors and TSNE;
Ensure timely and thorough compliance with TSNE's accounts payable and accounts receivable processes;
Liaise directly with TSNE regarding BMP's financial management;
Manage the processing of payments to vendors, consultants, subcontractors, etc., including the appropriate allocation of those expenses;
Process invoices, reimbursement requests and other payments;
Process staff expense reimbursements, and ensure staff compliance with TSNE processes.
Manage Grants, Funding and Earned Revenue
Establish a comprehensive calendar to track major deliverables to grantmakers (proposals, reports, etc.) and work with the relevant staff of BMP and TSNE to ensure that materials are submitted accurately and in a timely manner;
Monitor incoming grants and track appropriate spending and allocation of expenses to grants;
Update project leads on a monthly basis regarding grant expenses and timelines;
Maintain filing systems for membership dues, donations, etc. and ensure that all gifts are acknowledged immediately;
Manage the contracting processes by working with TSNE's legal department, invoicing clients in a timely manner, and monitoring opportunities to generate earned revenue through training fees, speaker honoraria, etc;
Work with BMP's senior leadership on strategies to cultivate individual donors and maintain relationships with key grantmakers/funders;
Develop and manage processes that direct financial resources to partner organizations on the ground, such as sub-granting, honoraria, etc., when needed.
Compliance with Administrative and HR Processes
Serve as primary liaison with TSNE's HR department to ensure compliance of BMP staff with policies and processes;
Work with the Co-Directors and other BMP staff with supervisory responsibilities to maintain a timeline for performance reviews and other compliance with TSNE's human resource systems;
Work with the Co-Directors and other BMP staff with supervisory responsibilities to craft job descriptions for new staff hires;
Coordinate communication and compliance with TSNE's HR staff regarding review, posting and approval of hiring processes;
Track applications for open positions and work with appropriate staff to schedule interviews and set up processes for ensuring fair and equitable review of candidates;
Support staff members in engagement with human resources protocols and systems (e.g., timesheet entries);
Work with TSNE to initiate consultant contracts, contract renewals, contract amendments, etc;
Monitor and track consultant contracts from contract development, execution, and invoicing;, and ensure contract files are organized and readily available;
Establish and maintain effective filing systems to ensure that invoices and all payments are recorded by BMP and reconciled with financial reports generated by TSNE.
Qualifications
We will consider exceptional candidates who demonstrate a strong combination of the specific qualifications and skills described below.
At least seven years of relevant work experience in the nonprofit sector.
Strong analytical and organizational skills, with demonstrated ability to manage complexity and prioritize tasks.
Ability to work under pressure, handle multiple assignments, prioritize workflow, adapt to fluctuating workload, and meet deadlines.
Ability to build a rapport with – and support – a diverse team of busy staff members and consultants dispersed across various offices, especially helping staff understand and comply with complex administrative systems.
Experience working with foundation staff and other grantmakers, including grantwriting and managing financial reporting.
Commitment to ensuring that private information is kept confidential.
Savvy about navigating complex organizational systems.
Excellent computer skills, with proficiency with Excel, Word, etc.
Experience supporting a team of colleagues working remotely.
Physical Demands/Work Environment
The physical demands described here are representative of those for this position. Reasonable accommodations will be made to enable individuals with disabilities to perform the functions. Work is performed in an office environment and in close proximity to other workers.
While performing the duties of this position, the employee is required to:
Handle, or feel objects, tools or controls;
Reach; traverse; sit (usually for longer periods of time); occasionally ascend/descend; and position self (to) move;
Occasionally lift and/or move up to 25 pounds;
The noise level in the work environment is usually moderate;
Job is not subject to significant occupational or environmental hazards;
Likelihood of personal injury would be relatively slight;
Environmental and work hazards are not present to a measurable degree.
TSNE/BMP envisions a society grounded in the principles of social and economic justice. As such, we strive to achieve excellence through a diverse and inclusive workplace that honors the unique talents and lived experiences of each person. Our vision and values are reflected in all our employment-related decisions, including hiring practices. Accordingly, TSNE actively seeks people who bring diverse backgrounds and perspectives to join us in our work.
As an EOE/AA employer, TSNE/BMP will not discriminate in its employment practices due to an applicant's race, color, religion, sex, national origin or ancestry, age, sexual orientation, gender identification, genetic information, veteran or disability status or any other factor prohibited by law.
12056720